Batography
** Suggested to be played in fullscreen mode **
Your ambitions in lunar photography begin here! Play as a curious bat on his mission to take a full fledged photo of the moon. Run, Climb, Glide and Snap your way through an array of obstacles while interacting with the cheeky characters in the neighbourhood. Can you collect all five moon cakes? Say cheese! ...or don't. But hey, they say moon is made of cheese!
Controls (remappable)
move = arrow keys
primary action = X
secondary action = Z
toggle fullscreen = alt + enter
pause to menu = escape
Credits
programming - SporkTank
character art - RickToons & MythicalWater
background art - MythicalWater
music = RickToons
sound effects - WinglessPegasus
game design - SporkTank, Mythical Water, RickToons, WinglessPegasus
testing - SporkTank, MythicalWater, RickToons, TheBDK, LLXU
SporkTank -> @TankSpork, SporkTank (Itch.io)
MythicalWater -> @MythicalWater, MythicalWater (YouTube)
RickToons -> @RickToons_Anim, RickToonsAnim (YouTube)
WinglessPegasus -> @winglesspegagsus, PegaPaints (Twitch)
Download
Comments
Log in with itch.io to leave a comment.
Really sweet game. Always nice to see others who love the moon too :)
I FOUND THE 5TH MOONCAKEEE OMGGGG it took a few tries to get up/in there BUT WHEN I DID I FELT SOO FULFILLED!!! This is SUCH A CUTE GAME!!! This team has a major future in game dev and I'm all for it!!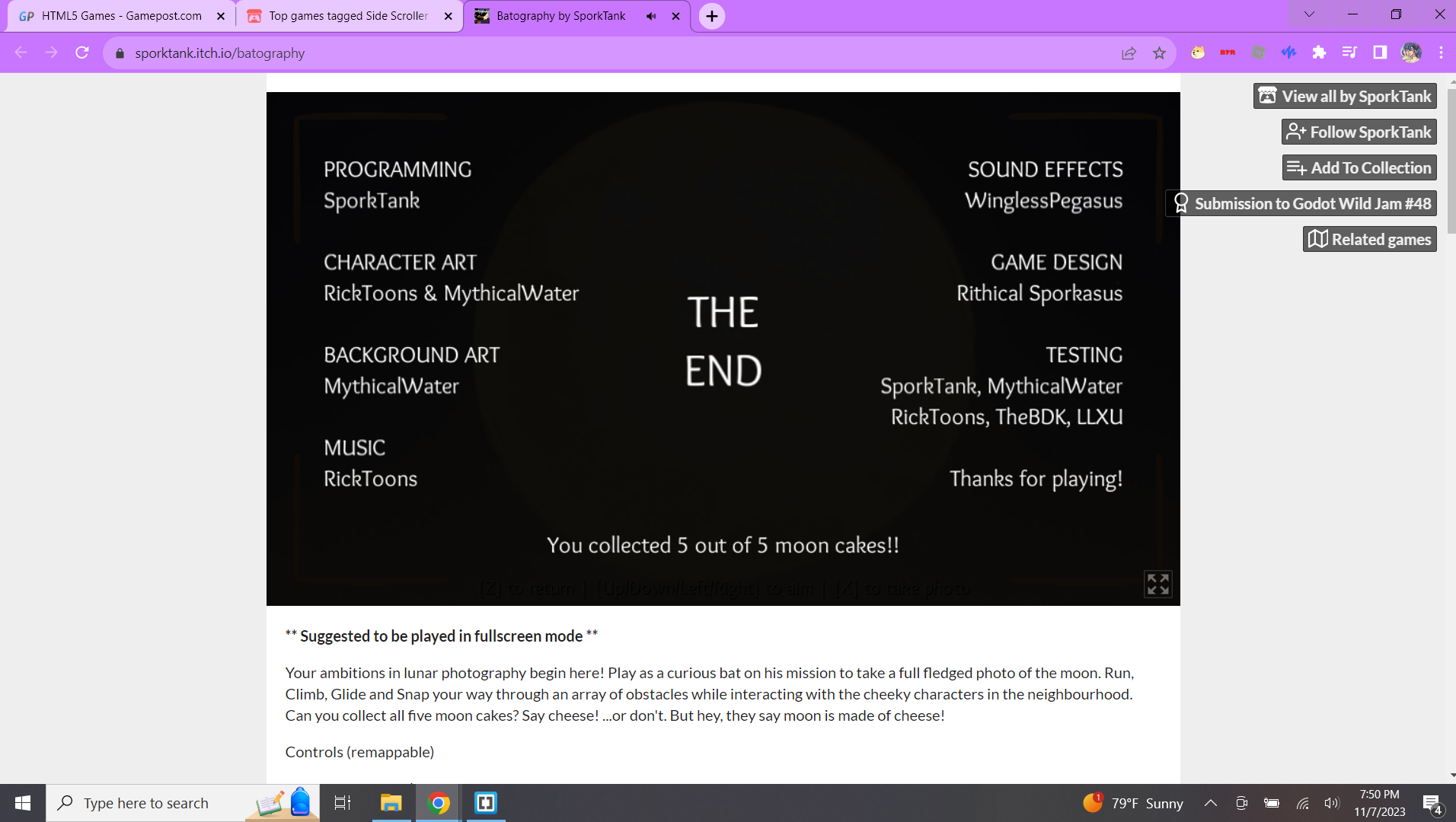 Thanks for playing, really glad you enjoyed it and were fulfilled by the ending! :) And thanks for the encouragement going forward, we'll do our best. 💪
Bruh where is the 5th mooncake? I played through this thing 3 times and couldn't find it. 💀 Overall though really fun game!
Thank you for playing! The opening sequence with the elder bat gives you a good hint where it might be... 😀
Omg tysm! This helped a lot! I can't believe I didn't check the spot I found it! (Not trying to spoil its location)
I know I'm...a year late, but your game is amazing, I absolutely loved it 💖
Couldn't find the 5th Mooncake, drats! Fun little game -
Really enjoyed the problem solving through the puzzles. Cool artwork too!